The chalet : description and location
General chalet description
Surrounded by meadows and lulled by the murmur of the brook that runs through the garden, it is a unique spot for relaxation.
Throughout this summer, there are endless possibilities of hiking on the entire massif and, more particularly, in the Sixt-Passy Nature Reserve.
Samoëns offers a very wide variety of sports and activities: swimming pool, tennis, archery, horse riding, rafting, climbing, paragliding ...

The immediate vicinity of the Vercland cable car (100 m), (direct access to the station), gives "foot of the slopes" comfort.
It takes just a few minutes to be in the heart of the Grand Massif ski area, connected with the stations of Samoëns, Morillon, Les Carroz d'Araches, Flaine and Sixt Fer-à-Cheval.
Alpine skiing, Nordic skiing, cross-country skiing, simple walks or great snowshoe hikes are on the programme (see Activities).

Located in the hamlet of Vercland, about 2 km from the centre of the village of Samoëns, the chalet backs onto the slope, enjoying a magnificent panoramic view of the surrounding mountains: Criou, Buet, Bourgeoise, Pointe de Marcelly.
Built recently (2007), entirely in wood and very spacious, the chalet combines all the amenities of modern comfort with the charm, intimacy and warm atmosphere of traditional Savoyard chalets.
It benefits from 1700 m2 of private garden open to the surrounding meadows.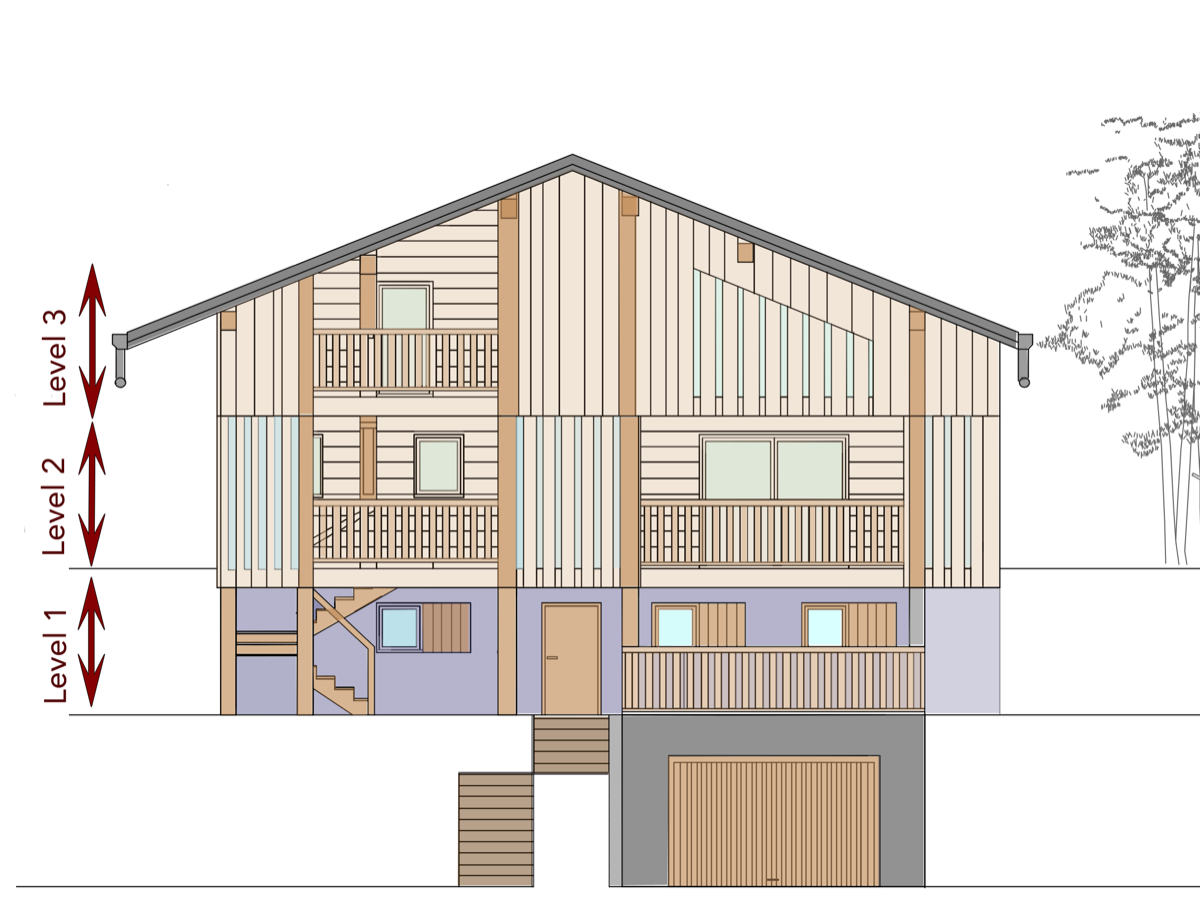 Large chalet (206 m2) with a total capacity of 14 people:
▶︎
8 to 10 people at levels 2 and 3 (166 m2),
▶︎
plus 2 to 4 people in a 2-room independent apartment on level 1 (40 m2) with internal communication
Interior layouts: Immaculate furnishings and decorationVery great comfort : large equipped kitchen, 1 bathroom, 4 shower rooms, 3 toilets,
Fireplace.Location and access:
▶︎
"Foot of the slopes" near the Vercland cable car
▶︎
Ski bus and bus for the village at 50 m
▶︎
On the edge of the main road leading to the Samoëns 1600 station

Non Accessible to persons with disabilities

Pets not admitted